India, Poltics & Pegasus Spyware
ஜனநாயகத்தின் தூண்களான பத்திரிக்கை, நீதி துறை, எதிர் கட்சி, மருத்துவ துறை, மற்றும் பல தனிநபர்களின் மேல் தொடுக்கப்பட்ட ஒரு இணைய தாக்குதல்.
கடந்த சில நாட்களாக சமூக வலைத்தளங்களில் பெரிதும் பேசுபொருளாக இருந்த ஒரு தலைப்பு "PEGASUS". பேசுபொருளாக மாறிய தலைப்பு என கடந்துபோகமல், அனைவராலும் பேசப்பட வேண்டிய தலைவலி பிடித்த தாக்குதல் இந்த "Project PEGASUS". ஆம் தாக்குதல் தான், இணைய வழி தாக்குதல். ஜனநாயகத்தின் தூண்களான பத்திரிக்கை, நீதி துறை, எதிர் கட்சி மட்டும் இல்லாமல் மருத்துவ துறை, மற்றும் பல தனிநபர்களின் மேல் தொடுக்கப்பட்ட தாக்குதல்.
செப்டம்பர் 2018, Citizenlab.ca இணையதளம் வெளியிட்ட அறிக்கையில் 45 நாடுகளில் இந்த Pegasus spyware தாக்குதலினால் பாதிக்க்கப்பட்டு இருக்க கூடும் என்றும், அதில் 33 நாடுகள் NSO 'வின் வாடிக்கையாளர்களும் அடங்குவர் என்று குறிப்பிட்டு இருந்தது.

"Israel-based "Cyber Warfare" vendor NSO Group produces and sells a mobile phone spyware suite called Pegasus. To monitor a target, a government operator of Pegasus must convince the target to click on a specially crafted exploit link, which, when clicked, delivers a chain of zero-day exploits to penetrate security features on the phone and installs Pegasus without the user's knowledge or permission. Once the phone is exploited and Pegasus is installed, it begins contacting the operator's command and control (C&C) servers to receive and execute operators' commands, and send back the target's private data, including passwords, contact lists, calendar events, text messages, and live voice calls from popular mobile messaging apps. The operator can even turn on the phone's camera and microphone to capture activity in the phone's vicinity." ~ Citizenlab.ca
Zero-Day Exploits என கூறப்படும் முறையில் எந்த தடையும் இன்றி தாக்குதலுக்கு ஆளாக்கப்படுபவரின் கைபேசியில் ஒரு குறுஞ்செய்தி அல்லது அழைப்பு மூலமாகவே இந்த PEGASUS 'யின் செயலி நுழைந்து செயல்பட தொடங்கிவிடுகிறது. பின்னர் தொலைபேசியின் உரிமையாளர் அனுமதி இன்றி அவரின் அத்துணை விவரங்களையும் கடவு சொற்களையும் முற்றிலுமாக கைப்பற்றி விடுகிறது.
*"In August 2016, UAE activist Ahmed Mansoor was targeted with Pegasus with a text message sent to his iPhone. We clicked on the link provided in the message and obtained three zero-day exploits for Apple iOS 9.3.3, as well as a copy of the Pegasus spyware. We disclosed the exploits to Apple, which quickly released a patch blocking the Pegasus spyware. According to our scans, all of the Pegasus servers we detected were shut down at least two days before we published our results." ~* Citizenlab.ca
Citizenlab.ca அறிக்கையின் படி GANGES என்ற பெயரில் அரசியல் சார்புடன் signpetition [dot]co என்ற இணைய மற்றும் இதர தளங்களின் வாயிலாக இந்த தாக்குதல் நடந்து இருக்கக்கூடிய ஆதாரங்களை வெளியிட்டது. இந்த இணைய தாக்குதலினால் பாதிக்கப்பட்டு இருக்க கூடிய Service Providers பட்டியலையும் அவர்கள் இணைத்து உள்ளனர்…
| ASN | Description | Country |
| --- | --- | --- |
| 9498 | BHARTI Airtel Ltd. | India |
| 24560 | Bharti Airtel Ltd., Telemedia Services | India |
| 18209 | Atria Convergence Technologies pvt ltd | India |
| 17813 | Mahanagar Telephone Nigam Limited | India |
| 9829 | National Internet Backbone | India |
| 17488 | Hathway IP Over Cable Internet | India |
| 38571 | Star Broadband Services | India |
May 2016, the Mexican investigative journalist Sebastián Barragán was working on an explosive story, regarding a video that appeared to show a scene of brutal torture; in it a group of police officers surround a man handcuffed to a chair; they strike him over and over again, and pull a plastic bag over his head. One of the men in the video is wearing a jacket with the letters PGJEM, The Prosecutor General for the State of Mexico, a state that surrounds Mexico City… Read the full story here.
June 2017, Pegasus spyware may hit iPhones too - Apple iPhone and iPad users believe they are safe as iOS has additional encryption and data protection features to safeguard user data. ~ Financial Express
November 2018, Israeli spyware was used to help track and eventually kill journalist Jamal Khashoggi, the NSA whistleblower Edward Snowden claims. Snowden alleged while speaking remotely at a security conference that Saudi agents bugged the phone of Khashoggi's close associate. They tracked Khashoggi's movements before eventually killing him at the Saudi Consulate in Istanbul. ~ Business Insider
October 2019, Facebook sued the Israeli hacker-for-hire company NSO Group on Tuesday in U.S. federal court for allegedly targeting some 1,400 users of its encrypted messaging service WhatsApp with highly sophisticated spyware. The lawsuit filed in San Francisco is the first legal action of its kind, according to Facebook, involving a nearly totally unregulated realm. ~ ABC News
November 2019, WhatsApp sued the NSO Group in a federal court in San Francisco on Tuesday, accusing it of using WhatsApp servers in the United States and elsewhere "to send malware to approximately 1,400 mobile phones and devices ('Target Devices')… for the purpose of conducting surveillance of specific WhatsApp users ('Target Users')".  ~ Indian Express
March 2020, MEDIA: WATCHING THE WATCHDOG - Pegasus had been used by Saudi Crown Prince Mohammed Bin Salman to hack the personal phone of Amazon founder and Washington Post owner Jeff Bezos. However, over the past half-decade, Pegasus has secretly been used by government agencies to try and snoop on dozens of journalists in countries around the world. ~ [Dawn]
July 2020, the Israeli Court Refuses to Revoke Export License of Spyware Maker NSO An Israeli court said that there was not enough evidence that a human rights activist had been targeted. Amnesty International had said that the spyware was used against one of its employees. ~ [News Click]
2016 'யில் தொடங்கி 2017, 2018, 2019, 2020, 2021 வரை பல பத்திரிகையாளர்கள், தொழிலதிபர்கள், அரசியல்வாதிகள் என பலரும் இந்த Spyware 'யால் பாதிக்கப்பட்டும் பல இனைய பாதுகாப்பை மீறும் தாக்குதல் நடந்தும் அதற்கான எதிர்வினைகளை ஆற்றாமல் மௌனம் காப்பதின் மூலம், அரசு இதனை தேசிய மற்றும் தனிநபர் பாதுகாப்பு விவகாரத்தில் சரிவர கவனிக்கவில்லையா என்ற ஐய்யமும் (அல்லது) அரசும் இதற்க்கு உடந்தையா என்ற கேள்வியும் எழுகிறது!
Pegasus Project:
Forbidden Stories மற்றும் Amnesty International உடன் இனைந்து Le Monde, The Guardian, Washington Post, Die Zeit, Suddeutsche Zeitung, The Wire உடன் மேலும் 10 Mexican, Arab and European செய்தி நாளிதலுடன் இனைந்து நடத்திய ஒரு புலனாய்வு தான் இந்த 'Pegasus Project'.
The phone numbers of over 40 Indian journalists appear on a leaked list of potential targets for surveillance, and forensic tests have confirmed that some of them were successfully snooped upon by an unidentified agency using Pegasus spyware, The Wire can confirm. 
The leaked data includes the numbers of top journalists at big media houses like the Hindustan Times, including executive editor Shishir Gupta, India Today, Network18, The Hindu and Indian Express. ~ [The WIRE] 
The list of political leaders and serving Union ministers whose phones were allegedly potential targets of surveillance:
Rahul Gandhi, former Congress president
Ashwini Vaishnaw, Union Minister for Railways, IT and Communications and his wife  [Read more: BJP Ministers Ashwini Vaishnaw, Prahlad Patel Find Place in List of Potential Pegasus Targets]
Prahlad Singh Patel, Union MoS Jal Shakti. [List also includes his wife, 15 of his close associates including private secretaries, political and office associates, his cook and gardener]
Prashant Kishor, Election strategist
Ashok Lavasa, Former Election Commissioner who was the only election commissioner to fault Modi for violations of the model code of conduct in the lead up to the 2019 elections. [Read more: Ashok Lavasa Placed on Snoop List as EC After Flagging Modi's 2019 Poll Code Violations]
Abhishek Banerjee, Trinamool Congress MP and national general secretary of the party
Gagandeep Kang, Scientist and Virologist who has been a key part of India's battle against COVID-19, and selected for potential surveillance in 2018, when she was helping with the fight against the Nipah virus. Scientists criticize 'rushed' approval of Indian COVID-19 vaccine without efficacy data
Hari Menon, India head of the Bill and Melinda Gates Foundation, and at least one other foundation employee, who was selected in mid-2019. A health-sector non-profit and an official of the US Centre for Disease Control posted to India at the time were also potential targets of surveillance, reflecting a keen interest in people working in the health sector. Kang is the first Indian woman to be elected as a Fellow of the Royal Society.
Jagdeep Chokhar, Head of Association of Democratic Reforms (ADR)
Alankar Sawai, Close aide of Congress leader Rahul Gandhi
Sachin Rao, Member of Congress Working Committee
Pradeep Awasthi, Personal secretary to former Rajasthan CM Vasundhara Raje (when she was the CM)
Sanjay Kachru, Union minister Smriti Irani's OSD during 2014-15
Pravin Togadia, Former international working president of VHP [The former VHP leader said he has prepared a draft bill for the construction of a Ram temple in Ayodhya as the government is busy with other matters.]
The leaked data has also revealed that over 11 phone numbers belonging to the Supreme Court staffer and her close relatives who accused former Chief Justice of India Ranjan Gogoi of sexual harassment in April 2019 were selected as targets for surveillance. [Read more: Days After Accusing CJI Gogoi of Sexual Harassment, Staffer Put on List of Potential Snoop Targets] ~ The WIRE
List of Indians, including journalists, lawyers and activists whose phones were allegedly potential targets of surveillance:
Shishir Gupta, Hindustan Times
Prashant Jha, Hindustan Times
Rahul Singh, Hindustan Times
Aurangzeb Naqshbandi, Hindustan Times
Saikat Dutta, former Hindustan Times
Vijaita Singh, who covers the home ministry at The Hindu.
Muzamil Jaleel, The Indian Express
Ritika Chopra, The Indian Express (who covers education and the Election Commission) and Muzammil Jaleel (who writes on Kashmir)
Sushant Singh, former The Indian Express
Sandeep Unnithan, India Today
Siddharth Varadarajan, co-founder of The Wire
Swati Chaturvedi, The Wire [A freelance journalist, Chaturvedi often contributes to The Wire and is also the author of the book I Am A Troll, which exposed the workings of the ruling party's digital arm.]
Devirupa Mitra, The Wire
Rohini Singh, The Wire [A contributor to The Wire, Singh's number appeared on the list after she reported on the business dealings of Jay Shah, Home Minister Amit Shah's son, and Nikhil Merchant, a businessman who is close to the Prime Minister.]
M.K. Venu, The Wire
J Gopikrishnan, The Pioneer
Paranjoy Guha Thakurta, journalist and adviser, NewsClick
Manoranjana Gupta, editor-in-chief, Frontier TV [The Northeast-based editor-in-chief of Frontier TV, Gupta also found a spot on the list.]
Shabir Hussein Buchh, independent journalist
Iftikar Gilani, journalist covering J&K
Smita Sharma, independent journalist and news anchor
Prem Shankar Jha, Indian economist, journalist 
Santosh Bhartiya, journalist and ex-MP
Deepak Gidwani, independent journalist
Bhupinder Singh Sajjan, Punjabi journalist
Jaspal Singh Heran, Punjabi Journalist
Hassan Babar Nehru, lawyer and activist in J&K
Umar Khalid, JNU scholar, currently in jail under UAPA
Thirumurugan Gandhi, activist arrested under UAPA
Rona Wilson, activist arrested under UAPA
Rupali Jadhav, arrested under UAPA [An anti-caste activist from Pune, Jadhav has been associated with Kabir Kala Manch, an anti-caste group for over a decade.]
Degree Prasad Chouhan, activist
Laxman Pant, activist
[ This list has been updated and some names removed as they had not consented to their names being made public but it was erroneously published by a foreign publication which is part of the project. ] ~ The PRINT
Update: 115 Names Revealed By The Wire On Snoop List So Far ~ The WIRE
சர்ச்சை ஏற்படுத்த வேண்டும் எனத் திட்டமிட்டே மழைக்கால கூட்டத்தொடர் ஆரம்பிக்கும்போது இந்தத் தகவல் வெளியாகியிருப்பதாகவும், இது அடிப்படை ஆதாரமற்ற உண்மைக்குப் புறம்பான செய்தி என்றும், இந்தியர்களின் செல்போன்களை ஒட்டுக்கேட்கவோ, ஹேக் செய்யவோ நமது அரசியலமைப்புச் சட்டப்படி பல்வேறு துறைகளின் அனுமதி பெற வேண்டும் என்பதால், அது எளிதாக நடந்திருக்க வாய்ப்பில்லை" எனவும் மத்திய தகவல் தொழில்நுட்பத்துறை அமைச்சர் அஸ்வினி வைஷ்ணவ் நாடாளுமன்றத்தில் விளக்கம் அளித்திருக்கிறார்.
``இந்தியா பெகாசஸ் ஸ்பைவேரை பயன்படுத்தவேயில்லை" என மத்திய உள்துறை அமைச்சர் கூறியிருக்கிறார். ~ Vikatan
டெல்லியில் செய்தியாளர்களைச் சந்தித்த காங்கிரஸ் செய்தி தொடர்பாளர் சுர்ஜேவாலா, இந்த சதிக்குப் பின்னால் இருப்பது உள்துறை அமைச்சர் அமித்ஷாதான் என்றும், அவரை உடனடியாக பதவி நீக்கம் செய்ய வேண்டும் என்றும் வலியுறுத்தியுள்ளார். இந்த விஷயத்தில் பிரதமர் மோடியின் பங்கு குறித்தும் விசாரணை மேற்கொள்ள வேண்டும் என வலியுறுத்தி கூறியுள்ள அவர், கடந்த 2019ஆம் ஆண்டு மாநிலங்களவையில், 127 பேரின் வாட்ஸ்அப் எண்கள் பெகாசஸ் உளவு செயலியின் மூலம் பார்க்கப்பட்டிருக்கலாம் என்று அப்போதைய தகவல் தொழில்நுட்பத்துறை அமைச்சராக இருந்த ரவிசங்கர் பிரசாத் கூறியிருந்தார். அது தொடர்பாக என்னென்ன நடவடிக்கைகள் எடுக்கப்பட்டது எனவும் காங்கிரஸ் தரப்பில் கேள்வி எழுப்பப்பட்டுள்ளது ~ Nakkheeran
July 2021, Paris: The cellphones of French President Emmanuel Macron and 15 members of the French government may have been among potential targets in 2019 of surveillance by spyware made by the Israel-based NSO Group, according to a newspaper report on Tuesday.
The Paris prosecutor's office announced it is investigating the suspected widespread use of the Pegasus spyware to target journalists, human rights activists and politicians in multiple countries. ~ TOI
Pegasus Project: 115 Names Revealed By The Wire On Snoop List So Far ~ The WIRE
SC orders independent probe into Pegasus, says Govt can't get free pass every time 'national security' is raised
The ruling came on a batch of 12 petitions which sought an independent probe into the allegations which surfaced in the media about the unauthorised surveillance. ~ Indian Express
பெகாசஸ் விவகாரம்: அதிரடி உத்தரவை பிறப்பித்த உச்ச நீதிமன்றம்!
பெகாசஸ் விவகாரம் குறித்து விசாரிக்க உச்ச நீதிமன்றம் அமைத்துள்ள குழுவிற்கு, ஓய்வுபெற்ற உச்ச நீதிமன்ற நீதிபதி ரவீந்திரன் தலைவராக நியமிக்கப்பட்டுள்ளார். மேலும், அந்தக் குழுவில் ஓய்வுபெற்ற ஐபிஎஸ் அதிகாரியும், ரா உளவுப்பிரிவின் முன்னாள் தலைவருமான அலோக் ஜோஷி, தகவல் தொழில்நுட்ப வல்லுனரான சுந்தீப் ஓபராய், தேசிய தடய அறிவியல் பல்கலைக்கழக டீன் நவீன் குமார் சவுத்ரி, பேராசிரியர் பிரபாகரன், இந்திய தொழில்நுட்ப நிறுவன பேராசிரியர் அஷ்வின் அனில் குமாஸ்தே ஆகியோர் இடம்பெற்றுள்ளனர். ~ Nakkheeran
SC Order on Pegasus Has the Potential to Let India's Democracy Breathe Again
The Pegasus surveillance seemed like the final assault on the democratic institutions like the media, civil society, judiciary, opposition and Election Commission. ~ The WIRE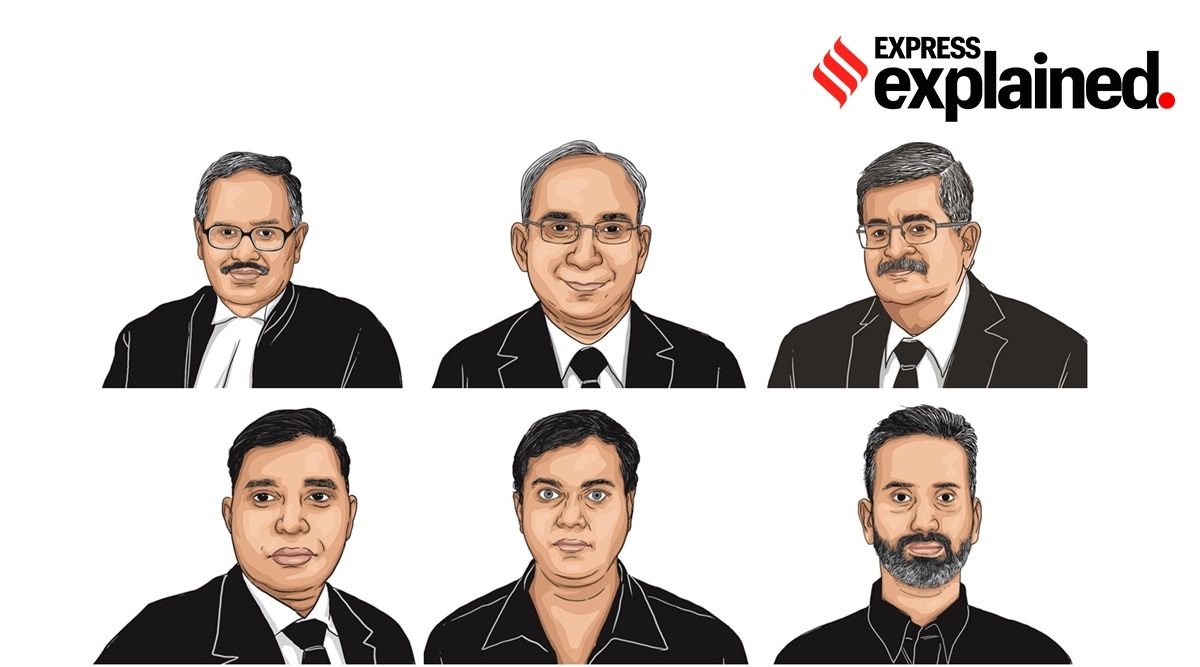 From top left, clockwise: Justice Ravendran, Alok Joshi, Sundeep Oberoi, Dr Chaudhary, Dr Gumaste and Dr Prabaharan P (Illustrations: Suvajit Dey, Sourse: Indian Express)
A three-member committee has been appointed by the Supreme Court to look into allegations of unauthorised surveillance using Pegasus, a spyware developed by Israeli firm NSO Group. ~ Indian Express
Pegasus sold only to governments: Israeli envoy to India
Accusing Iran of 'destabilising' the West Asian region, the Israeli Ambassador to India said the newly announced India-Israel-UAE-U.S. quadrilateral was an outcome of the "Abraham Accords" that saw Israel and the UAE establish diplomatic ties, which were the result of "common concerns" about Iran's role in the region. ~ The Hindu
Proof of Pegasus use on phones, Cyber experts tell SC panel
At least two cyber-security researchers, who have deposed before the Supreme Court-appointed committee that's probing the use of Pegasus for allegedly spying on citizens, have told the panel that they found concrete evidence of use of the malware on the devices of the petitioners.
These cyber-security researchers were engaged by some of the petitioners to depose before the top court panel and provide details of the forensic analysis done by them. ~ The Hindu
Narendra Modi and Benjamin Netanyahu on the beach at Haifa in July 2017. Photo: Kobi Gideon/Israeli government office handout via Reuters
Indian Leadership Showed 'Specific Interest' in Pegasus, Paid Millions for 'Multi-Year Contract'
Israeli reporter for the New York Times says India's contract allows its intelligence agencies to target up to 50 phones simultaneously with spyware attack.
The secret deal between India and Israel for the sale of Pegasus in 2017 was struck at the 'highest levels' of each country's political and intelligence leadership and flowed from the Modi government's 'specific interest' in and 'specific emphasis' on acquiring the controversial spyware, Israeli investigative journalist Ronen Bergman told The Wire. ~ The WIRE
India bought Israeli Pegasus spyware as part of weapons deal: NYT
The Indian government led by Hindu nationalist Prime Minister Narendra Modi acquired spyware from Israel as part of a weapon purchase deal in 2017, according to a New York Times report.
The Indian government denied it bought the Israeli-made spyware, which was allegedly used to infect phones of its opponents, rights activists and journalists in India. The report published on Friday said Pegasus and a missile system were the "centerpieces" of a roughly $2bn deal of sophisticated weapons and intelligence tools back then. ~ Aljazeera
…
This is a developing article please follow it for updates…